African Trade Bead Jewelry is perhaps some of the most fascinating ethnic jewelry out there. Because trade beads carry such a rich and unique history, many having traveled several continents and owned by multiple people over the centuries, people who purchase this jewelry will be wearing a piece of history.
Below is a beautiful piece of African Trade Bead Jewelry created by Shannon Koszyk: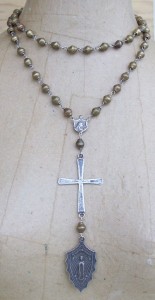 You can click on the photo to enlarge, or you can view her entire online store here. This piece of jewelry was created using Ethiopian beads (brass bicone, I believe). Shannon's description:
Handmade brass beads, Sterling Silver wire, hook clasp, Jesus and Mary center, coptic cross and finished with a re-cast vintage Mary and Jesus shield.
This beautiful piece is going for $468. If you are on a tight budget, it's lots of fun to create your own African trade bead jewelry. You can purchase strands or loose African beads from many places on the internet. Simply Google "African beads" or "african trade beads". My personal favorite shop is TheBeadChest.com. Enjoy and good luck!