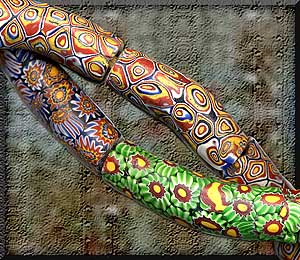 Perhaps some of the most beautiful African beads are the Millefiori trade beads. These beads, known for their beautiful flower design, are sought after by collector's around the world. Because Millefiori beads are all handmade, each and every bead is unique and one of a kind, making these beads extremely collectible.
Millefiori beads have several different names:
Mosaic beads
These beads are typically ornate. Mosaic beads are made with colorful fused segments of glass cane ( long drawn rods of glass).
Love beads
This name was used mostly during the hippie era in the '60′s and '70′s. Very rarely are Millefiori beads called "love beads" today. Perhaps because other African beads have adopted the name of Love Beads.
Trade beads
Because Millefiori beads are the most popular form of trade beads, many people simply call them trade beads.
Millefiori beads are created with many layers of vibrant, colorful glass fused together in cross sections and then plastered onto the surface of the bead. The surface of Millefiori beads can have all sorts of designs ranging from abstract patterns, to flowers and faces.
You can buy Millefiori beads here.