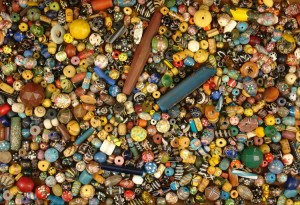 Friends often ask me why I am so obsessed with African beads. I use them to make all sorts of jewelry, and sometimes just wear them as is. So I figured I'd blog about the top 10 reasons why I invest so much of my time and money in African beads.
African beads carry a rich history.
Many of these beads, including trade beads, have traveled up to 4 continents and can be up to 300 years old.
By purchasing African beads, you are supporting working class people in Africa.
Sure, African beads may be a tad more expensive than Indian or Chinese beads…okay, I lied..they tend to be much more pricey…but when you buy African beads, you are helping to support independent craftsmen in villages all over Africa…so feel good about buying them! You're helping to put food on people's tables.
African beads are often environmentally friendly.
For example, Powder Glass Beads are made by crushing used Coca-Cola glass bottles, and re-using the glass to make all sorts of beautiful beads. They are also known as Recycled Glass Beads.
African Beads are handmade and unique.
No two beads come the same, and love is put into every bead that is made. It's a different feeling when you wear a necklace with beads on it that were made with the human hand, as opposed to a machine in some factory. You feel the love
African beads don't lose value.
It's quite amazing actually, but African beads don't really ever lose value. I've been collecting for decades, and every bead I've bought has really been an investment. When I used to purchase Trade Beads in the 70′s, they were about 1/3 the price of what they run for today.

Many African bead stores donate a portion of each sale to Charity.
It's true. The African bead market is one you want to be a part of. The Bead Chest, who have an amazing selection of Ethiopian beads, donate a portion of every sale to help Darfur refugees. Kwaze-Kwasa donates 100% of all net profits to help AIDs orphans in Sub Saharan Africa.
They're just plain cool!
So there you, my top 7 reasons why I buy African beads. If you haven't started playing with these fun little beads, start now and I promise you won't regret it.