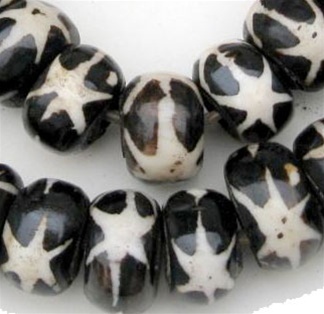 Some of the most beautiful bone beads come from Africa. African bone beads are very often dyed using a process known as batik. These Batik bone beads from Africa are beautiful when used in necklaces and even bracelets.
Made in Ghana, Africa, batik bone beads are typically strung on raffia, but you can easily cut and break up strands and use the loose beads in the jewelry you create. African bone beads are also beautiful worn as is, on the raffia string.
They come in all different designs such as star, zebra, striped, traditional, arrow, and many more. These beads typically run for $13 – $40 a strand, depending on the age, design, condition, and availability. You can get your African bone batik beads here.