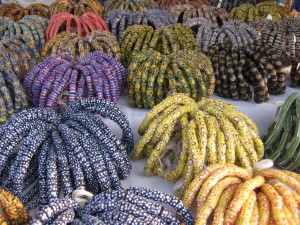 When researching African beads, you will find that different styles and designs of beads originate and are produced in different parts of Africa.
Krobo beads, also known as powder glass beads, are typically produced by craftsmen and women of Krobo and Ashanti tribes, living in Ghana. Krobo bead making is first documented in the 1920's, but the practice is believed to be much older. Other bead making practices date to earlier periods.
The beads are made in a particular way. Locally dug clay is used and formed to make molds; each mould holds a single bead. Finely ground glass is then layered into the mould, which is kept upright, to form patterns. The process can be compared to filling a glass jar with coloured sand.
Once the mould is filled, it is fired in a wood burning kiln, also made of local clay. Different glass coarseness, as well as the type of glass used, produces different effects once fired.
Beads can be pierced shortly after production to allow threading, or are produced in halves and fired together for a short time to fuse the two pieces. A glass slurry glaze can be used to decorate the beads. Another process gives beads the appearance of opaque or translucent colouring.
Originally, scrap glass was used to produce the beads, however, particular glass from certain products are often sourced out in modern production. Creativity on behalf of the craftsmen, through the use of new materials and methods, has led to new designs and trends of krobo beads.